Smart Dashboard PowerPoint Template is a presentation design template available at SlideModel that provides a creative and useful presentation dashboard slides.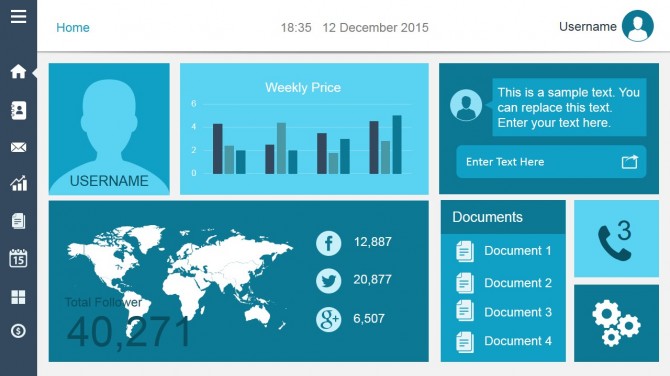 The smart dashboard slides for PowerPoint contains several slide designs including widgets and components that you can adapt to your own presentation or edit in order to match your presentation needs. By default, some popular components are provided including a world map component slide or widget, a data-driven bar chart with weekly prices, an avatar with username placeholder, a document list, gear icons or a phone icon with number of missed calls.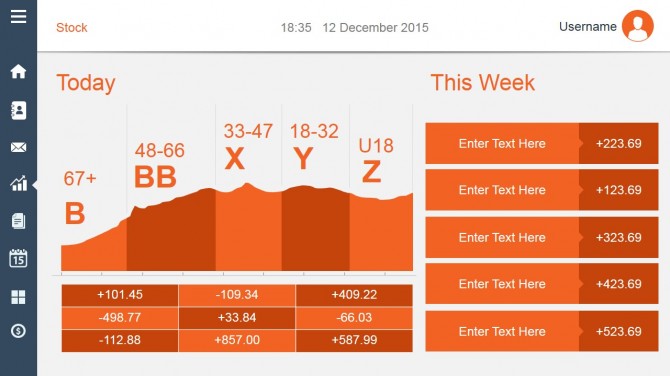 There are other slides providing an amplified chart and data elements that can be used as an alternative to traditional tables in PowerPoint. This way, you can make infographic elements in a PowerPoint slide using a creative dashboard design and engage your audience with creative and cool shapes. In the figure shown above we can see a creative area chart showing Today's performance and another column with detailed performance during the last week.
At the left side of the slide we can see a subtle vertical menu bar like those used in online web and mobile applications. This menu gives the idea of being in a tablet device or using an application while the presentation is advancing. The small arrow pointing to the menu items let the audience know what is the current slide at a given time and gives a sense of presentation progress.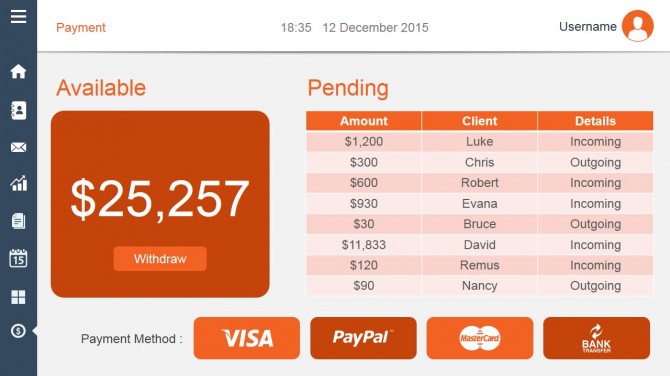 The last slide contains useful tables and layouts for presenting an account balance in a financial PowerPoint presentation but also useful for affiliate managers or publishers who need to present the total balance in an account. There are shapes designed as payment buttons with different logos of popular payment companies such as VISA, PayPal, MasterCard or even a Bank Transfer illustration in a button.
Smart Dashboard PowerPoint template is compatible with popular versions of Microsoft Office including PowerPoint 2010, 2013 and also PowerPoint 2011 for Mac.